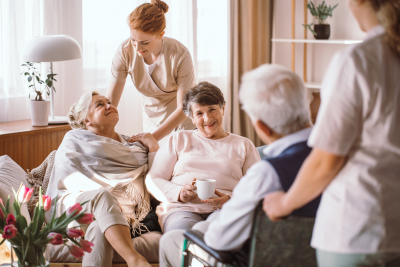 Safeway Healthcare, Inc. is locally owned, insured, and licensed in the state of Georgia. Our primary goal is to provide compassionate Personal Home Care for seniors in the comfort of their homes. In our service, we are deeply committed to respecting the rights of our clients and their family members and has zero tolerance for dignity of care.
We recognize the importance of trust in this industry. That is why we conduct thorough background checks on our employees. We also establish staff orientation training specific to each client's need.
At Safeway Healthcare, our services are available 24/7 live-in or hourly in client's home, hospitals, nursing homes and assisted living homes. We are where you want us to be for your compassionate care. We utilize professional caregivers to deliver courteous and dependable service that nurtures the minds of our beloved clients. At Safeway Healthcare, caring is from the bottom of our hearts.
Our Mission
To provide high-quality care essential to the improvement of our members physical, mental, and social condition. In our service, we are committed to all values in our interactions with clients, families, and government agencies.
To provide service that values human dignity, respects human diversity, and enhances the physical, mental, and emotional well-being of everyone.
To offer services in the least restrictive, least coercive manner, and most natural setting. To assist each person in living, working, and learning leisure activities in the community.
To ensure that services are provided by caregivers who have the skills to recognize and respect the behavior, ideas, attitudes, values, beliefs, customs, languages, rituals, ceremonies, and practices characteristics of all patients.
To deliver service characterized by excellence. With our emphasis on quality service, we wish to develop and maintain the highest possible standards and ensure that all programs and services meet the needs and expectations of our clients and the state regulatory body.
---
If you still have questions about our company or services, please do not hesitate to leave us a message. We will get back to you as soon as possible.