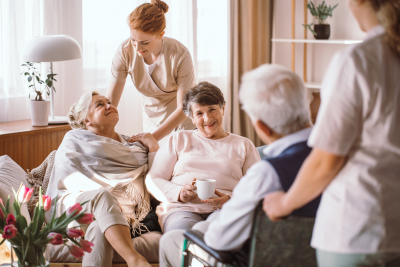 Safeway Healthcare, Inc. is locally-owned, insured, and licensed in the state of Georgia. Our primary goal is to improve the quality of life of the people and the community we serve by providing compassionate, reliable, and exceptional home health care to our beloved clients. As a reliable home health care provider, we believe that by respectfully providing care to our clients, we can establish a sense of trust and security with them.
We recognize the importance of trust in home care services. That is why we conduct thorough background checks on our employees. We also establish individualized client orientation training to provide the best service our clients deserve. Our team of professional caregivers makes the difference between us and other agencies.
What makes us different is that our services are available 24/7, which includes live-in services. We employ Registered Nurses, Licensed Practical Nurses, and Certified Nursing Assistants who provide affordable, dependable, and courteous skilled nursing and personal care. We are also available to give care in private residences, nursing homes, assisted living facilities, and hospitals. Our professional caregivers are qualified and experienced in delivering the highest quality care possible. At Safeway Healthcare, Inc., caring is from the bottom of our hearts.
Our Mission
To provide high-quality care essential to the improvement of the physical, mental, and social conditions of our clients. In our service, we are committed to all values in our interactions with clients, families, and government agencies.
To provide service that values human dignity, respects human diversity, and enhances the physical, mental, and emotional well-being of everyone.
To offer services in the least restrictive, least coercive manner, and most natural setting. To assist each person in living, working, and learning leisure activities in the community.
To ensure that services are provided by caregivers who have the skills to recognize and respect the behavior, ideas, attitudes, values, beliefs, customs, languages, rituals, ceremonies, and practices characteristics of all patients.
To deliver service characterized by excellence. With our emphasis on quality service, we wish to develop and maintain the highest possible standards and ensure that all programs and services meet the needs and expectations of our clients and the state regulatory body.
---
If you still have questions about our company or services, please do not hesitate to leave us a message. We will get back to you as soon as possible.