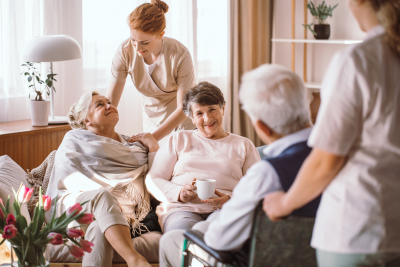 Safeway Healthcare, Inc. is locally owned, insured, and licensed in the state of Georgia. Our primary goal is to provide compassionate Personal Home Care for seniors, people with disabilities, and individuals recuperating from illnesses in the comfort of their homes. In our service, we are deeply committed to respecting the privacy and rights of our clients and their family members and has zero tolerance for dignity of care.
We recognize the importance of trust in this industry. That is why we conduct thorough background checks on our employees. We also establish staff orientation training specific to each client's need.
At Safeway Healthcare, our services are available 24/7; live-in or hourly in clients' homes, hospitals, nursing homes and assisted living facilities. We customize our services in collaboration with clients and family members to meet their care plan requirements. Our highly skilled and compassionate professional caregivers deliver courteous and dependable services that nurtures the minds of our beloved clients. At Safeway Healthcare, Inc. caring is our TOP priority.
Our Mission
Our primary mission is to bring exceptional quality and compassionate health care into the homes of our clients by improving their quality of lives through the delivery of unparalleled Nursing, Personal Care Assistance, and Companion Sitting services.
.